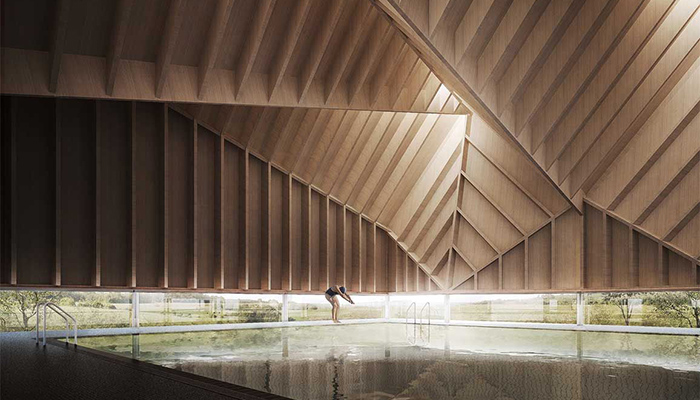 The triangulated cross-laminated roof trusses in wood that can be seen in the picture make up this spectacular space designed by the London-based practice, Duggan Morris Architects, as part of the refurbishment of the swimming pool in the 1980 building, Alfriston School in Buckinghamshire.
The swimming area forms part of a complex made up of gyms, changing rooms and offices. Thanks to its shape, the persistent reverberations common to this type of complex go unheard. The final result blends in with the typical buildings with sloped roofs in the surrounding area. Respect for the local architecture, the efficient use of building materials and the beautiful composition define this intervention, which was the result of a restricted call for tender in 2008.
Each of the triangles, the largest of which is 12 x 6 meters, were built off site and then simply assembled over the pool using bespoke invisible steel plates with plugged bolts, all of which has resulted in this impeccable showpiece. The use of prefabricated modules is one of the most efficient ways of approaching construction projects and, in this case, the end result paid off as this was one of the 30 British architecture and furniture projects shortlisted for the Wood Awards 2014.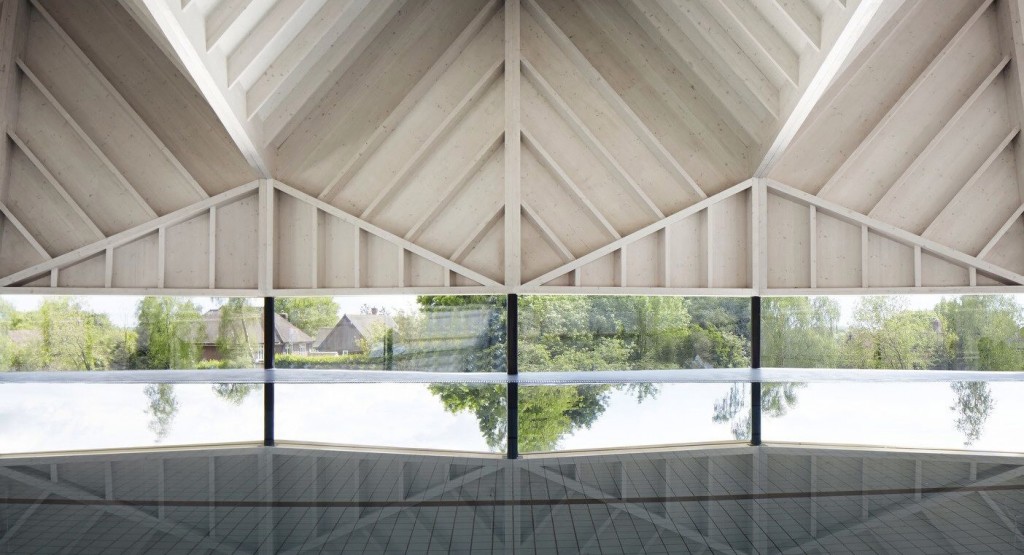 A continuous horizontal line one metre in height is the only source of natural light in the building, which means that only the bottom half of the people walking in it can be seen. While swimmers practise their swimming techniques in this pleasant building, they are able to look outside onto a landscape that combines water and trees, which afford sufficient privacy from the surrounding neighbourhood.
This academy school teaches 120 girls with moderate learning difficulties. The pool was designed following an ongoing collaboration between the architects, the school's management' team, members of the parents' association, local town authorities and the pupils.
---