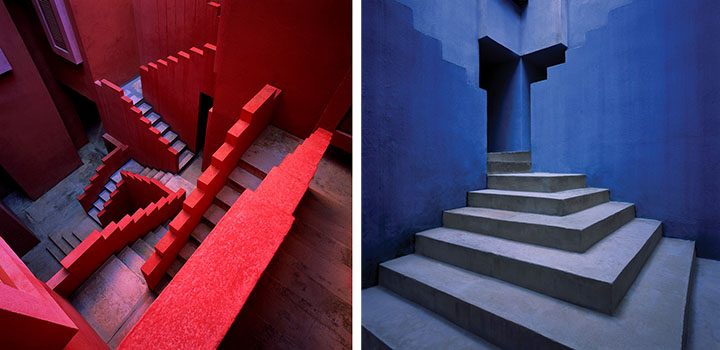 Today, we once again turn our attention to 1970s architecture, in particular the work of Ricardo Bofill, an architect whose emblematic designs include the Barcelona airport expansion, the W Barcelona hotel, the remodel of an old cement factory on the outskirts of Barcelona (which he turned into his headquarters, the Taller de Arquitectura), and the design and construction of La Muralla Roja resort from 1968 to 1973.
Located in La Manzanera tourist complex, Bofill introduced a prominent feature along the coastline of the Alicante town of Calpe with his red building. The project embodies a clear reference to the popular architecture of the Arab Mediterranean, in particular the adobe towers of North Africa.
La Muralla Roja is like a fortress on a rocky cliff that towers over a landscape dotted by olive trees, marking a vertical silhouette that reinterprets the Mediterranean tradition of the kasbah. Inside, the labyrinth of this recreated kasbah is based on the shape of a cross, creating a set of interconnected patios that provide access to 50 apartments, which include 60 m² studios, and two- and three-bedroom apartments that measure 80 m² and 120 m², respectively. Hallways, terraces, stairways and courtyards are extensions of the living spaces designed by the Catalan architect.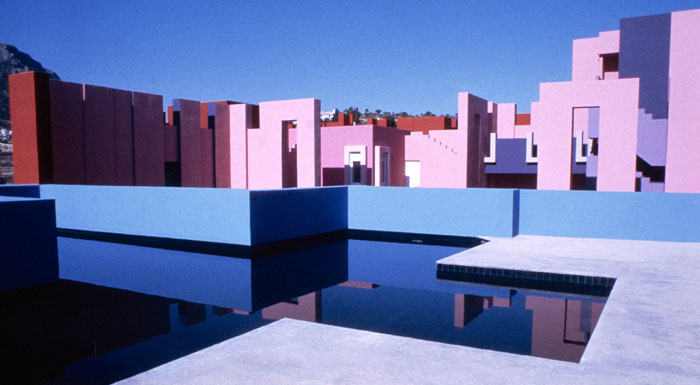 The residents' only pool is located on the roof, which offers views of the blue Mediterranean from between red towers. All exterior surfaces of the complex are painted in various shades of red to accentuate the contrast with the landscape and complement its purity. The interior patios and stairs, however, are painted in blue tones (such as sky blue, indigo and violet) to produce a contrast with the sky or, conversely, the optical illusion of blending with it.
The spectacular complex, rated as a "comprehensive protection" building that must conserve all its architectural features, has served as a backdrop in numerous adverts. The most recent was the campaign for the 2016 spring collection of a Spanish couture brand. Gregori Civera's photos of the complex are also highly recommended.
---