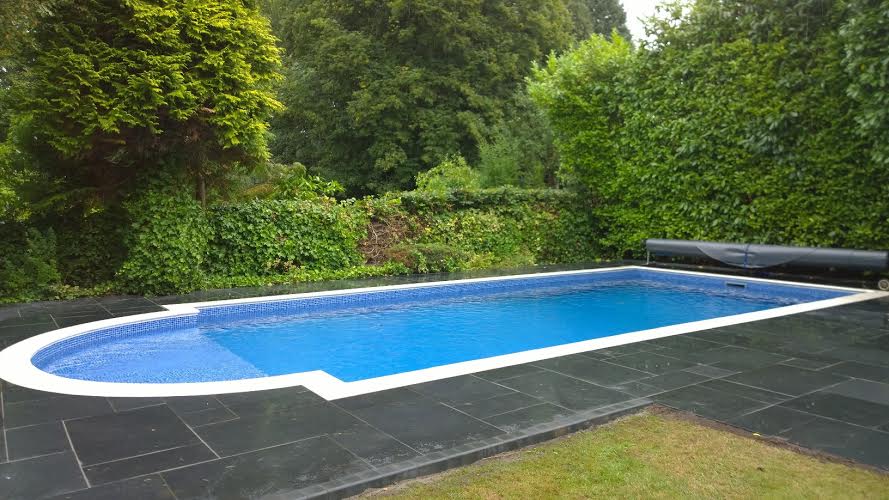 When it comes to the fast and effective refurbishment of an old pool, Infinite on-site lining is the preferred option for Staffordshire pool dealer, West Midlands Swimming Pools, as this pool in Edgbaston, Birmingham demonstrates.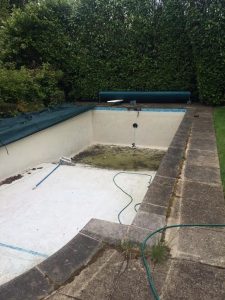 The old leaking concrete pool with a roman end had definitely seen better days and was in dire need of refurbishment. West Midlands Swimming Pools pressure tested all pipework before making their assessment that on-site lining was the way forward.
West Midlands' Kay Cunningham says: "We regularly undertake this type of project, in fact on-site lining is becoming a core part of our business as it really does transform an old pool in the easiest and quickest way possible. The whole project took about four weeks and gave stunning results."
The pool's happy owner, Peter James says: "I hunted the Internet for weeks looking for the right pool lining but there really isn't that many choices out there. Then, by chance, I started following a company on social media and the lining they were using was exactly what I was looking for so I contacted West Midlands and they got the boys in to do what can only be described as a first class job! It's soft under my feet and has turned the pool into a real feature. Amazing results."
All you need to know about Infinite on-site lining:
On average, how long does it take to site line a pool?  Timing varies with size and complexity, but generally it's four working days for an average sized domestic hopper pool with steps.
How soon after lining can the pool be used?  Immediately.
What kind of pools are the most suitable for site lining?  Site lining is a very versatile option for both new and old pools of domestic and commercial size. It can accommodate complex shapes, steps, ledges, pits etc. One key element to remember though is that any pool fittings need to be liner fittings so if the pool is not an existing liner pool some conversion is required. If conversion is not possible, the provision of purpose made HDPE clamping plates may be possible.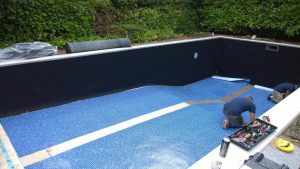 What are its advantages over other refurbishment options?  As a commercial grade material the longevity of the product when compared to thinner linings or paints (it comes with a 10 year pro rata warranty) is a major advantage. The process is generally quick but, as Certikin completes the full installation, it also means that the pool trader can still earn on other projects while we are working on their behalf. The range of colours and patterns mean that a tile effect can be re-created and areas of contrasting colour (such as racing lines) can easily be added at what is usually a fraction of the price of a fully tiled pool.
How does it compare in terms of cost?  A site lining falls between cheaper options such as paint and thinner, bag style, liners and more expensive options such as tiling or spray applied products, so it is often seen as excellent value for money as the materials used are both  attractive and varied in colour and pattern, but also extremely durable and  versatile.
How long does site lining last for?  The general warranty offered is 10 years, but the life expectancy can be double this in a well maintained pool. Water balance is critical and an even temperature of around 28-32 deg C is ideal. The lining really has two functions – retaining water and looking good. As the life of the liner progresses it will very probably remain an excellent water retainer, but looks will suffer if the lining and its environment are not monitored and controlled.
---