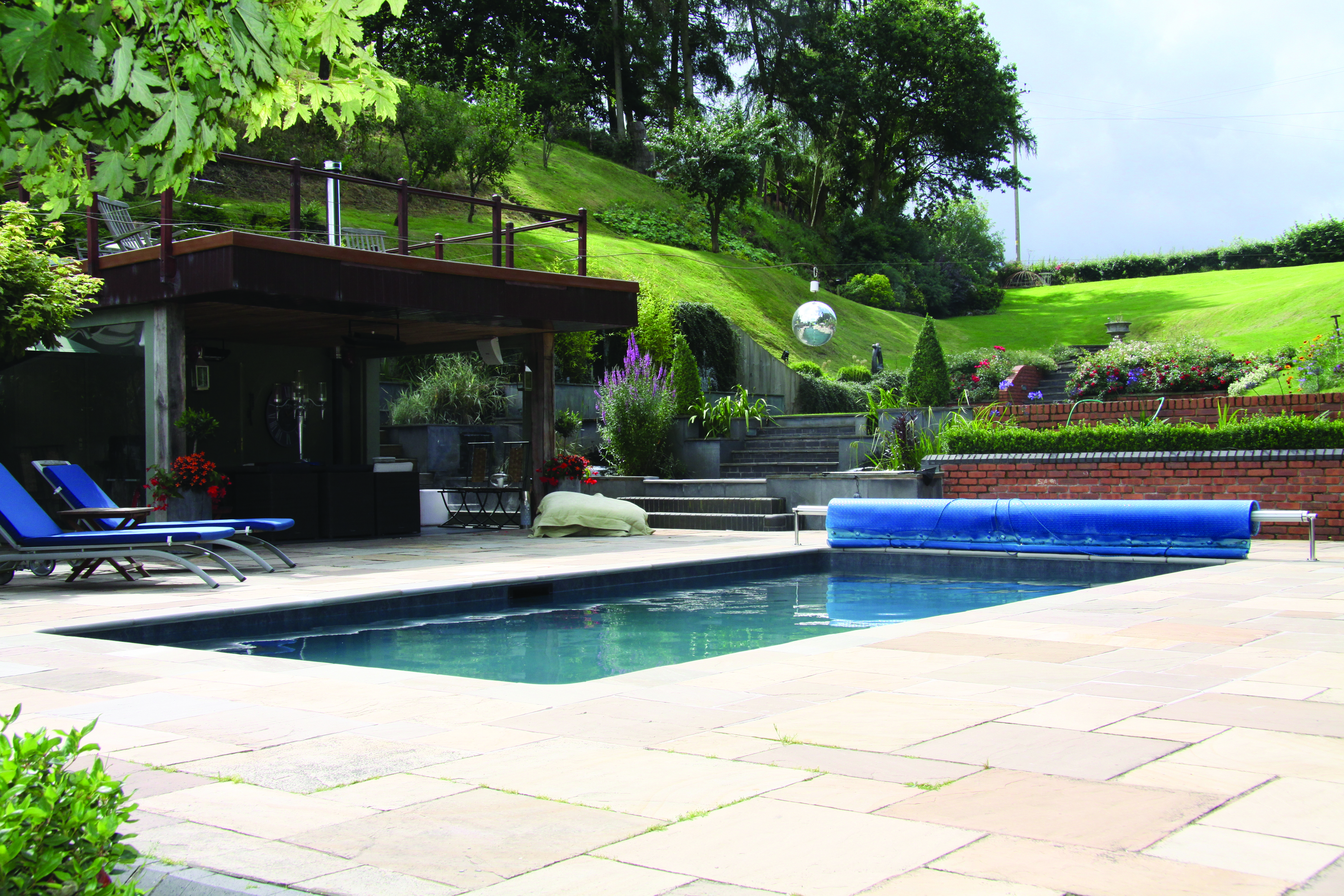 The choice of pool fittings can make or break the overall impression of a pool, as this installation by Poolstore in Worcestershire graphically illustrates. Adding the finishing touch, Certikin's beautiful Optimus range of black fittings blend seamlessly with the pool's grey black vinyl liner to give a sleek black slate effect.
Veering away from traditional blue, the owner of this stunning 7.32m x 3.66m hopper pool wanted something a little bit different, so he embraced the dark side and chose the stunning Elegance vinyl liner from the Certikin Touch range.
The range is designed to offer the appearance and texture of natural stone. By combining high quality, thicker than standard (2.0mm as opposed to 1.5mm) vinyl with the latest manufacturing technique of embossing and engraving, the design offers both aesthetic beauty and a very pleasing touch. It's also highly functional as the Elegance design has an anti-slip option which complies with Cat C of the required DIN standard. Like all vinyls in the Touch range, the Elegance is protected by the Alkorplan 3000 multilayer lacquering system for durability and longevity.
The pool's owner, Philip Orford says: "I'm incredibly pleased with the liner as it has a very high-quality look and feel. Being able to quickly heat the pool to 32 degrees is important to me. Thanks to the benefits of the heavy-duty Elegance vinyl, I am able to do that quickly and safely. The contractors were efficient and friendly and did an excellent job. Despite the price differential, I would highly recommend this superior grade liner over and above the standard."
Complementing the eye-catching liner, is Certikin's Optimus range of metallic grey and black flow fittings. Designed specifically for dark coloured liner and concrete pools, the Optimus plastic skimmer extension throat, wall inlet, vacuum point and main drain (with anti-vortex grille) give the pool an uninterrupted appearance. With the popularity of salt chlorinators on the increase, Optimus offers the ideal solution for those looking for corrosion free flow fittings. Philip adds: "The black fittings work very well and give the pool a high-end finish. We are absolutely delighted with the whole project. It has surpassed our expectations and given us a summer of fun and we look forward to many more."
"The reason we use Certikin is because they are always able to meet our customers' needs, regardless of the size or demands of the project. In this case the customer was very specific in what he required and the Certikin sales team were super efficient in providing quotations and recommendations for the project. We have had very positive feedback from all our customers regarding the professionalism of the Certikin installation team and the accommodating manner in which they carry out the work. This adds up to a productive and efficient working relationship between ourselves, our supplier (Certikin) and the end user." Jason Fidler, General Manager of Poolstore
For all liner and pool equipment enquiries, contact Certikin International 01993 778855 | info@certikin.co.uk | certikin.co.uk
---