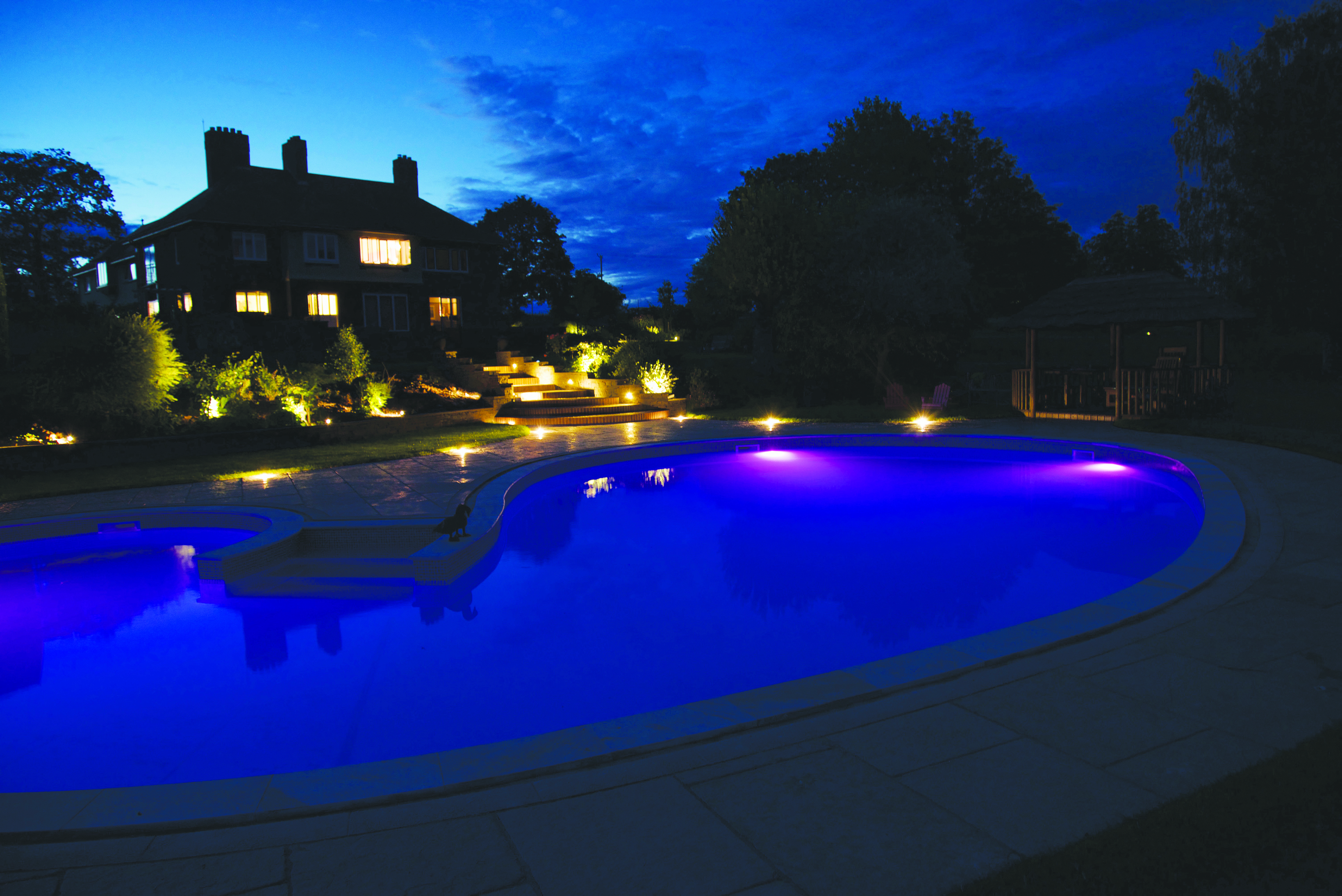 Perched on a hillside in the village of Claines, in the heart of Worcestershire, this striking swimming pool offers a jaw dropping view of the Malvern Hills. Thanks to the pool's stunning colour change light system, which adds a beauty of its own, the view is one that can be appreciated both day and night.
Refurbished last winter by Gloucestershire based pool experts, Leisure Pools Ltd, the 52 x 23 ft old kidney-shaped pool was on-site lined by the Certikin team. Leisure Pools' MD, Peter Hooper, recommended on site lining, not just for its robust and durable nature but also its ability to accommodate complex shapes, steps and ledges. The pool lining took just seven days to complete. The pool is heated with two Calorex Pro-Pac heat pumps.
Shining a light on innovation
When it comes to bringing you the most innovative, energy saving products, Certikin is the industry's leading light and in no other product sector is this truer than lighting. Indeed, one guaranteed way of reducing running costs on a pool, at the same time as enhancing its ambience, is by the installation of LED lighting.
Equipped with three Sylvania colour change lights, this pool demonstrates just how important lighting is in adding mood and effect. Offeringup to 25,000 hours lamp lifetime, Certikin'sSylvania PAR56 LED is an economical, highquality underwater light for swimming pools andfountains. By combining high powered LEDs ofred, green and blue and fixed white colours, withan internal microprocessor, the light is capable ofgenerating the full spectrum of colours to stunning effect. It can be operated in a continuous colour changing mode, or fixed at any desired colour by briefly switching off and back on again. An identical shape to an incandescent PAR56, it is easy to retrofit. An optional remote control and receiver is available.
The Certikin LT LED light offers a staggering lamp life of up to 100,000 hours, that's about 11 years if left on permanently! They also use less than 10 per cent of the energy used by traditional 300W pool lights.

The Certikin LED Underwater lights are environmentally friendly thanks to their long-life expectancy and energy efficiency. Available in either a white light or a multi-coloured light unit (six fixed colours and six colour sequences) where a choice of fixed colour or automatic colour sequencing can be used to create a range of different effects. Certikin manufactures the industry standard PU9 and PU6 underwater lights in either LED (white and colour change) or 300w and they are available for concrete, liner or prefabricated pools.
The Certikin LT and Sylvania LED PAR 56 bulbs can be retro-fitted into any existing light designed to use the PAR 56 design. They make an upgrade to LED technology easy and are the obvious choice for discerning customers.
Just 100mm in diameter, the LumiPlus Mini LED offers intense illumination and high energy efficiency. It is available in a pure white finish or a stainless steel effect. Colour change versions are available and can be controlled via a control panel and remote control unit.
For further information on Certikin's extensive lighting range please contact our Pools Division by calling 01993 777200
Leisure Pools Ltd | 01684 292211 | leisure-pools.co.uk
---