Surrounded by water on all four sides, this unique, stunning house on Hayling Island on the Hampshire south coast demanded an equally eye-catching swimming pool. Simplex Pools set about the task of designing and building a pool befitting its surroundings and from its solar cover to its LED lights and HDPE grating, the finished article has the Certikin hallmark stamped through it.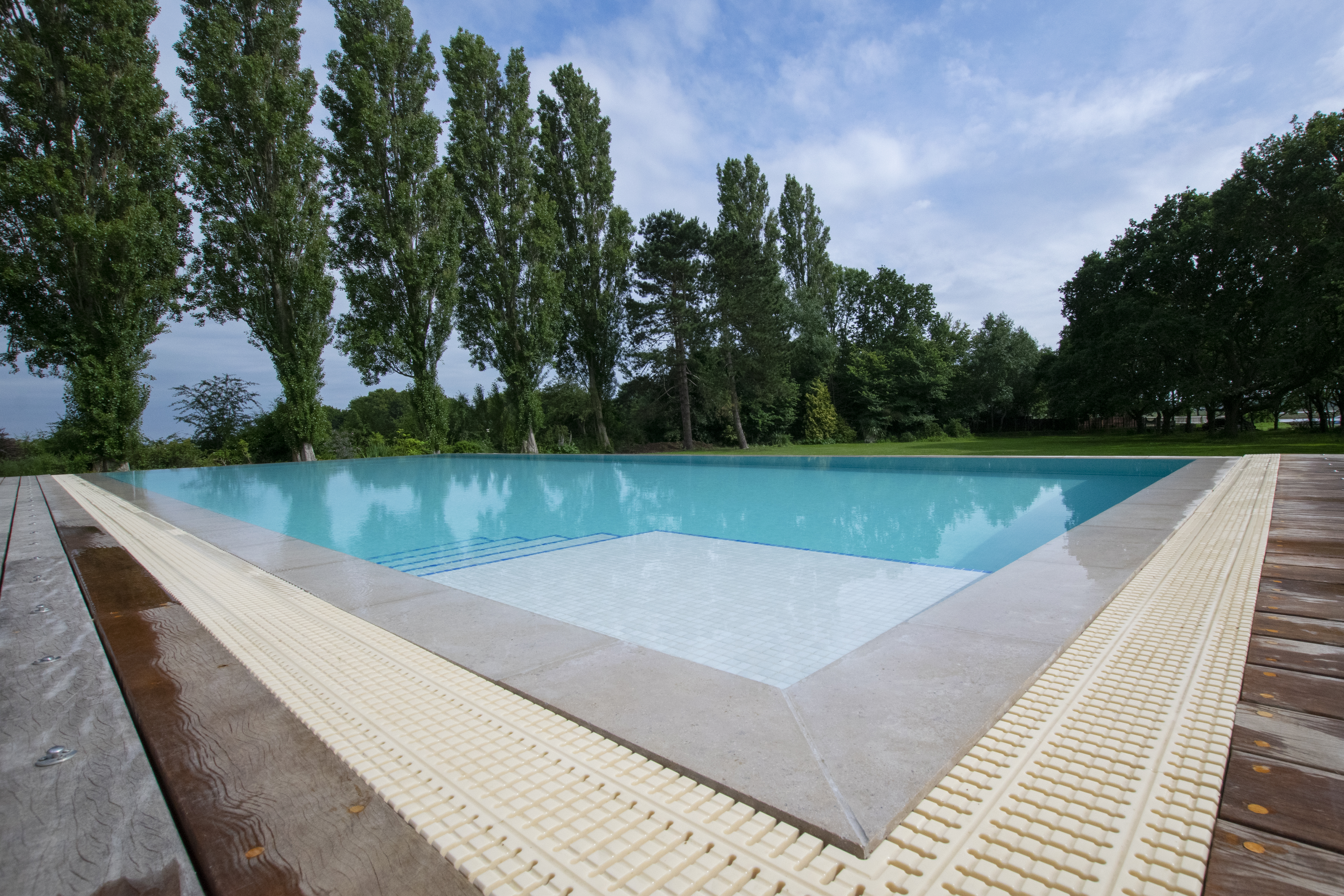 When keen sailors Kate and John bought a plot of land on Hayling Island, their first task was to demolish the original dwelling to make space for a larger bespoke property on the plot that would fulfil their wishes for a forever home.
The house is built on a small headland jutting out into Chichester Harbour. Because of the risk of floods from high tides the new house had to be raised above sea level. The house complete, Kate and John were looking for a swimming pool that they could exercise in and provide an entertainment area for family and friends.
They instructed Simplex Pools, a family run company based on Hayling Island, to design a 12m x 5m concrete tiled overflow pool. After consulting with structural engineers and local builders, the above-ground pool was constructed so that it appears from the house as an in-ground pool. It affords them beautiful views of the harbour.
Simplex Pools MD, Gareth Lancaster takes up the story. "This project has taken two and a half years from design to completion, although the actual construction of the pool took only a little over three months. Because of the above-ground aspect of this pool, we knew we were tasked with building something state of the art and special. It took us outside of our comfort zone, but through hard work and research we have created a bespoke pool that both ourselves and our clients are really proud of."
It's the attention to detail that helps contribute to this pool's presence. The pool's smart finish is enhanced by Certikin's cream coloured high density polyethylene overflow grating (HDPE). This is ideal for new builds or for refurbishing pools that are beginning to look like they've seen better days and in need of a make-over. It looks good and offers high impact strength. Certikin can manufacture the grating in any depth, width and virtually any colour and other bespoke items can be made to match such as manhole covers, drain covers, inlet covers and steam diffusers.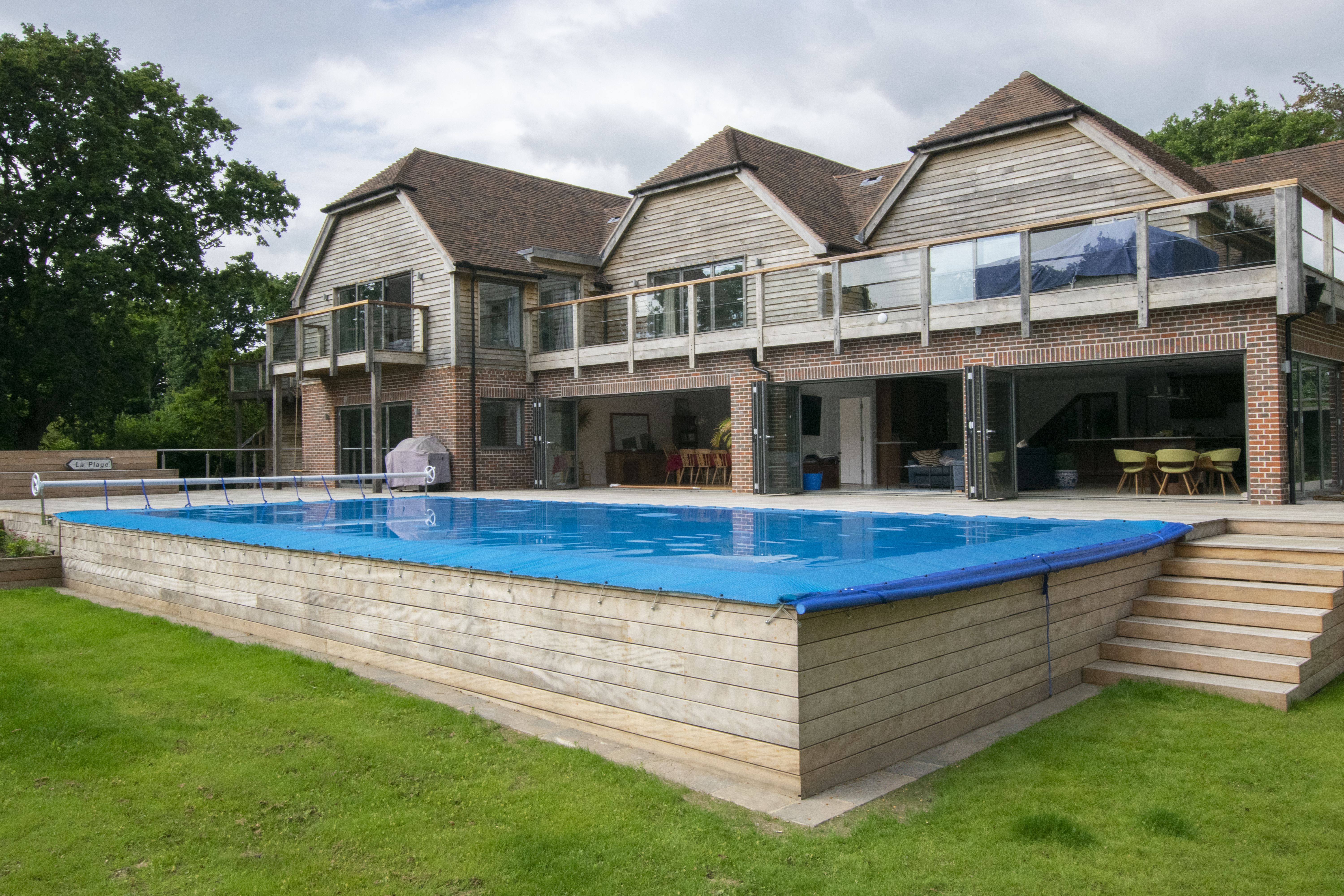 The pool is fitted with Certikin's GeoBubble solar cover. As it is a very exposed site, the cover was made with elastic straps so the wind can't get under it. An investment in a Certikin solar blanket pays dividends in terms of the payback it offers from solar gain, heat retention and the fact that it acts as a highly effective water loss barrier. Traditional bubble cover materials use a circular cylindrical bubble design but research shows that this design offers multiple weak points which can be prone to premature failure in the harsh environment of a swimming pool. The GeoBubble extrusion combats the attack of UV and pool chemicals. Sharp corners which in standard covers are an area of high stress are, in the GeoBubble,  replaced by a smoother, more uniform shape and a 50 per cent thicker material.
The pool features Certikin's Quick Change PU6 U/W LED lights which are a revolution in underwater light design and offer numerous benefits for the pool builder and customer alike. The lamp holder has no screws, nuts or bolts and is held in place with a threaded ring on a new purpose-made gasket. This means that no tools are needed to change the bulb, thus reducing the bulb changing time. Environmentally friendly, thanks to its long life (up to 100,000 hours) and high energy efficiency (uses 90 per cent less power than a traditional lighting system). It comes in a white LED light; a colour change light and an ultra-bright LED for commercial pools that require greater light intensity and better power efficiency than a standard unit.
Other Certikin equipment includes a Calorex Pro-Pac 22 heat pump, white fittings, pipework, a Vision filter and  Euroswim suction pump.

03455 761084
---