Tiled in beautiful Honister green slate, mined in the Lake District, this state-of-the-art swimming pool seamlessly merges into its hillside surroundings. Affording stunning views of the Edge Hill escarpment in Banbury, it's the skilful work of Northamptonshire builder, Mosaic Pools.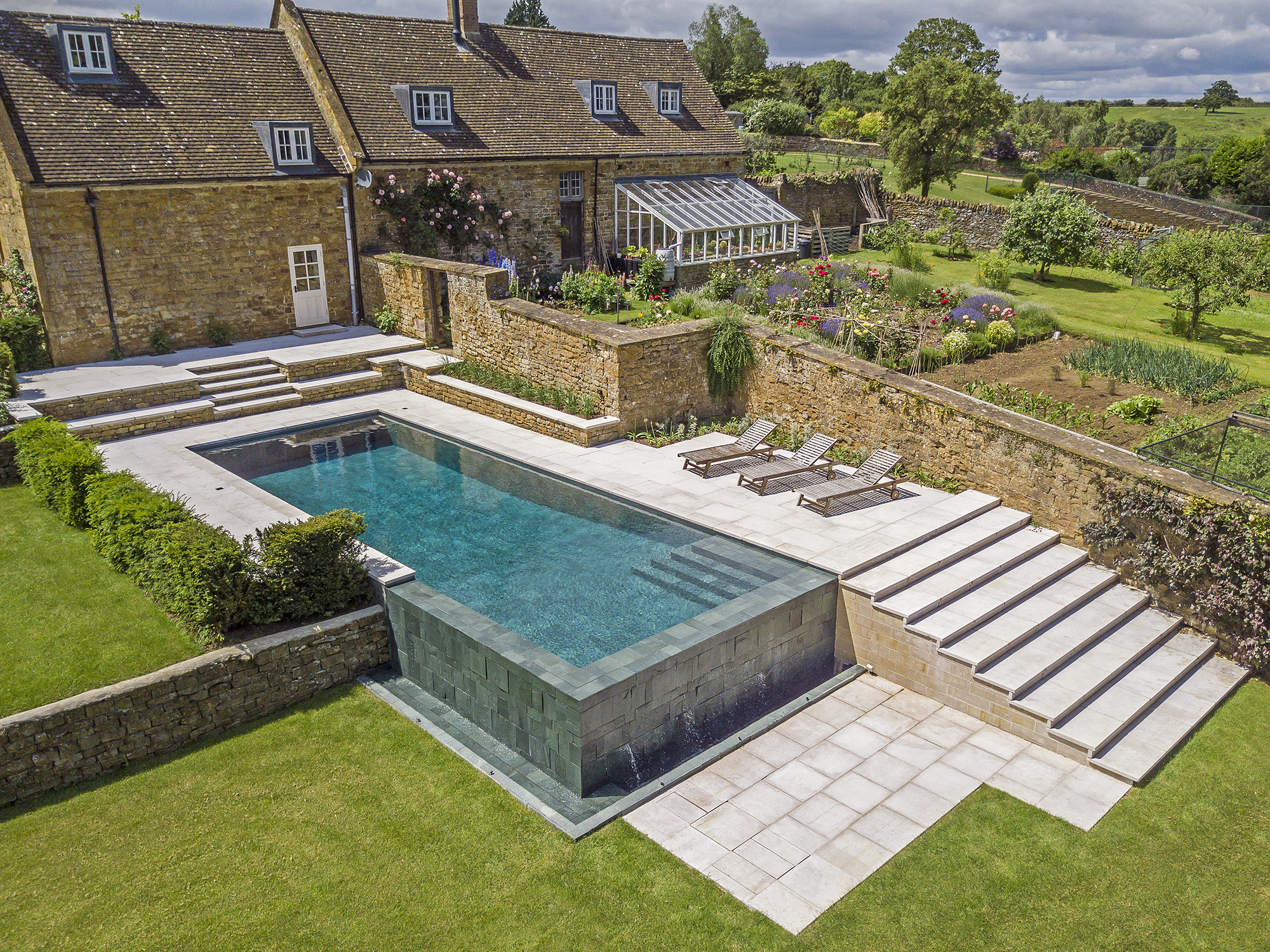 The client's remit was to build a swimming pool into one of the tiers of their extensive and impressive four-tiered garden.  The detailed brief included an infinity edge pool, measuring 11m x 5m and tiled in Honister green slate – chosen for its eye-catching colour and texture.
The question was where to place it. In order to keep it within the confines of the second top tier, it meant the pool would be very close to the house.  It was therefore decided to build the pool on the third tier and put an infinity edge partially on one side plus the end of the pool to give it a more aesthetic and realistic appearance.
MD Of Mosaic Pools, Steve French says: "This gave us the opportunity to tile the outside walls below the infinity edge of the pool using the slate which was also used to line to make a slate trough, before the water enters a balance tank hidden below ground and then returning to the filtration system."
Steve adds: "The pool is packed with Certikin equipment. The Roldeck cover with its solar slats looks stunning on this pool as well as being functional, retaining the heat when the pool is not in use. The Tri Salt unit and Blue Lagoon UV keep the pool's water in pristine condition and the Aquaspeed pump and Lacron filter deliver the reliability that has been proven over many, many years of using these units in our pools.
"I choose Certikin as my supplier because I know my customers will be getting the best, highest quality goods in the marketplace," says Stephen. "It's my belief that if you buy cheap, you buy twice but, in any case, Certikin goods are not overpriced. Based in Milton Keynes, I am only 45 minutes away from Certikin in Witney so it's handy for dropping by to pick up some last-minute pieces of equipment or chat over a technical problem. The technical back-up is second to none and gives great peace of mind and I
have always found the company and its personnel to be very fair."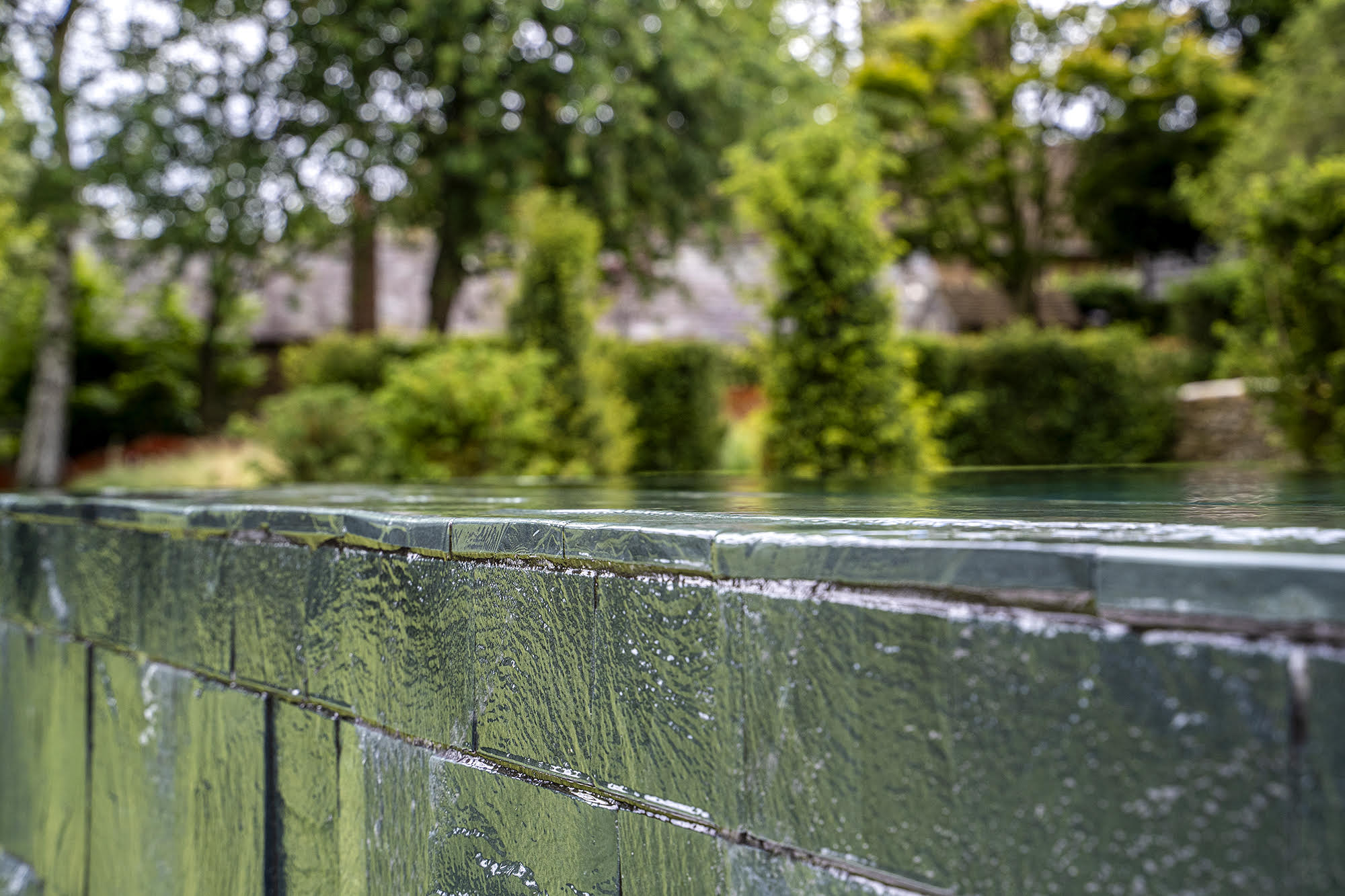 Mosaic's shopping list:
The pool bears testament to how Certikin equipment, combined with craftmanship of this calibre, produces a standout pool. From its ProPac heater and LED Quick Change white lights to its Roldeck cover and stainless steel fittings, it proudly bears the Certikin hallmark. Here's some of its highlights:
Aquaspeed pump and Lacron filter
Exclusive to Certikin, the new generation Aquaspeed, launched last year, fits perfectly into the original Aquaspeed footprint and pipework connections so is ideal for retro fit as well as new installations.
Suitable for salt chlorinated pools, the pump has a solid clear lid for simple inspection of the basket and comes complete with quick connect unions for ease of installation and a 316 high grade mechanical seal. The single piece fibreglass filled pump body (UV stabilized and corrosion resistant) ensures maximum strength and durability. It features a hydraulically efficient impeller and diffuser design for maximum hydraulic output whilst minimizing turbulence.
The range also includes the Aquaspeed 100 ECO-V pump. With all the features and benefits of the renowned Aquaspeed, this new model brings variable speed economy to an industry favourite. Crystal clear, sparkling water is the most important feature of any pool and a Lacron filter is a super efficient way to ensure perfect water quality. Boasting a 30-year proven track record, the filters are pressure tested to 60 psi (4 bar).
Blue Lagoon UV
The Blue Lagoon UV system is the perfect disinfection solution for guaranteeing sparkling clear water for high end pools like this one. UV systems are better for the environment and are thus becoming increasingly popular.
Designed to disinfect pool water safely and efficiently, the Blue Lagoon system keeps bacteria, mould, and algae at bay, and pool water crystal clear and inviting. UV sterilisation offers amazing disinfecting and battles bacteria without damaging the pool. It reduces chlorine and chemical requirements by 80% – better for those with sensitive skin, removing strong odours and at the same time, saving money.
Roldeck cover
Crowning the pool is a Roldeck automatic cover with solar slats. The made-to-measure Roldeck is the Rolls Royce of slatted covers in terms of heat insulation, evaporation control, durability and aesthetic appearance. It is manufactured in interlocking sections similar to a Venetian blind and ticks the following boxes:
Mosaic Swimming Pools & Spas 
t. 01280 843101 | w. mosaicswimmingpools.co.uk
---