Pure delight was the reaction from these two pool owners on diving into their pools for the first time. They're the craftsmanship of Stewart Skinner of Purepools in Somerset who knows a thing or two about building pools having been in the business over 30 years. Quality comes high on his list of priorities so it's little surprise that Certikin, the UK's number one wet leisure supplier and manufacturer, is his first port of call.
Driving through the gates of this impressive residence, nestled in the picturesque village of Lydeard St Lawrence, outside Taunton, an immaculate tennis court and an impressive wooden-clad pool hall loom into view. Stretched out in front of the hall, the water twinkling in the afternoon sunshine, is this beautiful pool. Within weeks of moving in, the owners contacted Nether Stowey-based Purepools with the brief to create a "good-sized family pool," usable from April to October. Purepools set about building a 10.3m x 5m site-lined pool with a varying depth of 1m to 2m, and some four months later, the pool and pool hall were finished. The pool features Certikin's grey fittings, white PU6 LED-lights, a Multicyclone, Rainbow Feeder, a titanium Bowman heat exchanger and an oil-fired boiler.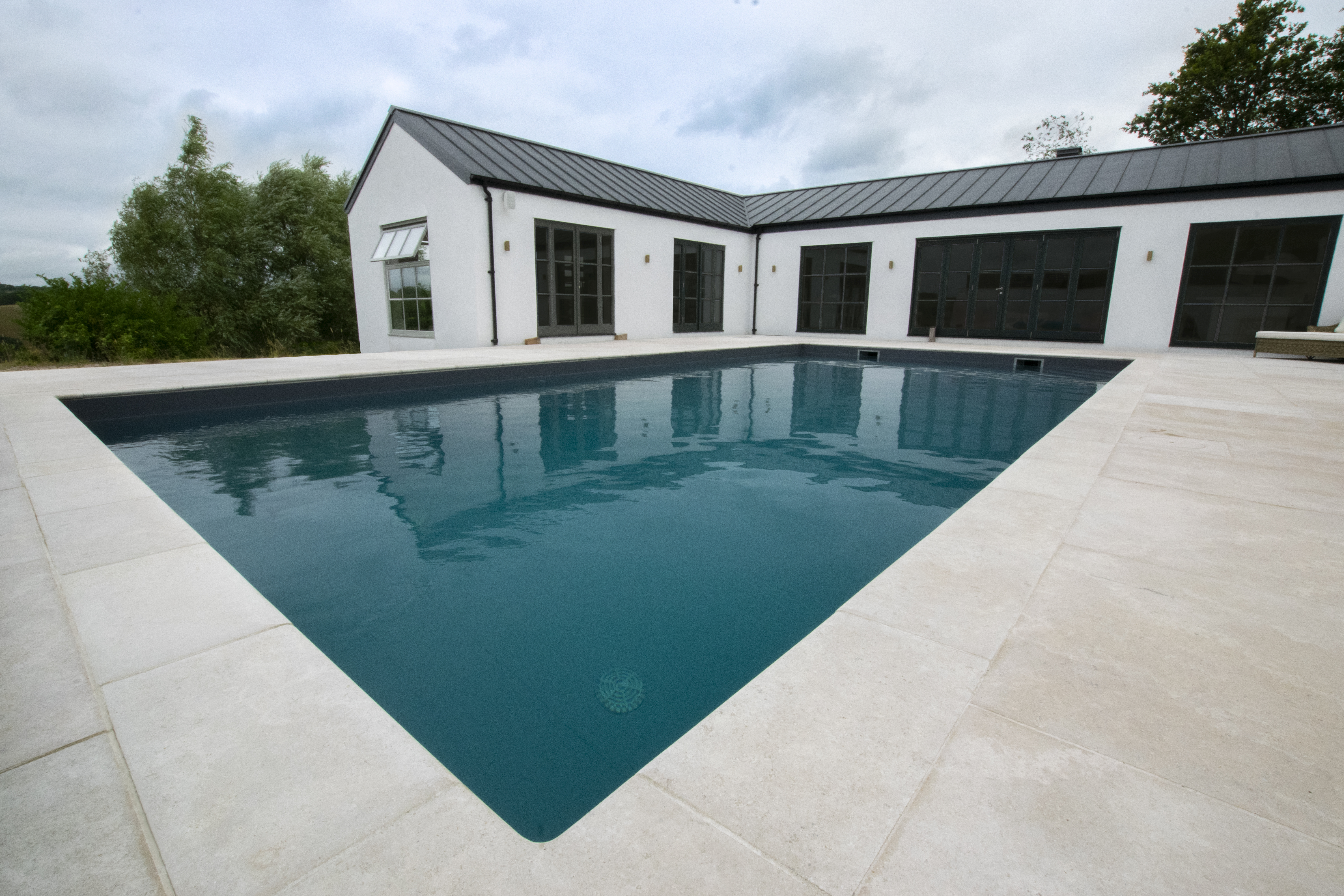 The Purepools team's next project was this new build liner pool near Tiverton. The 11.5m x 5m pool with a depth of 1m to 2m, features a titanium Bowman heat exchanger, Certikin white PU6 LED-lights with a grey/silver surround, grey/silver skimmers, Certikin's grey / silver main drains, an Elecro control panel for heating and a Rainbow Feeder. The Pro-Pac packs a punch The owners then asked Purepools for an answer to lower running costs for an extended season so Stewart chose the Calorex Pro-Pac heat-pump as the defrost system gives exceptional early and late season performance. The Pro-Pac X incorporates a hot gas defrost and will operate to a low ambient temperature, making for a longer heating system at a very competitive price.
OC-1 – Purepools' filter media of choice
Both pools are fitted with Certikin's OC-1 filter media. Stewart is a great fan of the British manufactured filter media which, unlike traditional entrapment methods, works through settlement and harnesses advances in pump technology and variable speed pumps/controllers. Reduced energy and water consumption (thus less chemicals and heating) coupled with 20 times greater debris collection compared to sand or glass, means it is fast becoming the filtration of choice. It is light to handle, easy to install, low in maintenance and has a typical payback of just 12 months. OC-1 reduces energy consumption and maintains constant flow rates, even when the media becomes dirty. No downtime is required for heating/salt chlorinators/heat pumps going out on low flow. The constant flow means pumps can be run at lower speeds, thus saving energy.
Stewart says: "I am very impressed with OC-1's performance – its efficiency and the results it achieves. I think it fully justifies the title of a revolutionary product." The Viron – takes efficiency to a new level High on Purepool's shopping list is the Viron variable speed pump – featured on both these pools. The energy saving Viron eVo Pumps are a range of fully variable speed energy efficient pumps to suit all pool sizes, filtration systems and budgets. With 8 star energy rating, the Viron Pump reduces CO2 emissions, promises a quiet operation and long equipment life. Compared to conventional single speed pumps, the Viron eVo pump makes dramatic savings on operating costs. Most swimming pools are effectively filtered and sanitised with flow rates ranging from 7-12 m3/hr. In fact, they will never require more than 15 m3/hr – 18 m3/hr for tasks such as cleaning the filter or vacuuming the pool, and for these the Viron P320 eVo is ideal. However, for larger pools, multiple spa jets, water features or in-floor cleaning systems, a larger capacity pump may be required. For these applications, the Viron P600 eVo pump offers an impressive 36 m3/hr flow rate.
The Viron eVo has been carefully designed for ease of operation. Three programmed speeds are factory pre-set and will suit most pools and most applications. Each speed, however, can be adjusted with a simple press of a button. Operation is intuitive to make the Viron eVo as user friendly as possible.
"I choose Certikin as my one of my main suppliers because they can always be relied upon to supply premium quality goods," says Stewart. "They are backed with an unparalleled sales and technical service. If I encounter any installation problems, I know that help is only a phone call away."

t. 01278 732993 | e. stewart@purepools.co.uk
---