A family-run business of 39 years standing, Berkshire-based Pools Plus know a thing or two about wet leisure, from design and specification to installation and maintenance. Endorsing the belief that there is nothing more inspiring and enticing than seeing water leisure in action, huge numbers of visitors flock to the vibrant Pools Plus display centre at Dobbies Garden Centre near Twyford, where the Certikin wooden pool has attracted a fan base all of its own.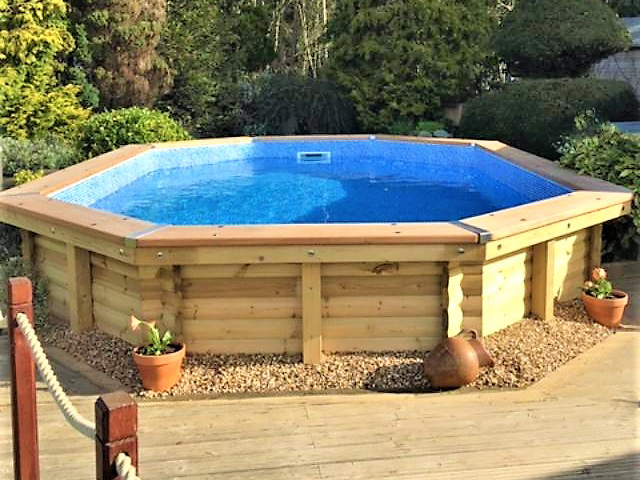 Serving Berkshire and the surrounding counties for almost four decades it is the word of mouth recommendations that Pools Plus's owners, Tony and Christine Canueto, are most proud of and which form the backbone of this very successful swimming pool and landscaping business.
As the latest addition to the display centre at Dobbies Garden Centre in Hare Hatch, the Certikin wooden pool is in good company, sitting alongside two inground pools and nine hot tubs, surrounded by beautifully landscaped gardens and a feature pond complete with 20 tonne rockery and waterfalls.
A planned springtime unveiling of the pool was postponed, due to lockdown, until the end of May but, despite the delay, the demonstration 6m by 4.2m wooden pool earned its living, garnering much interest over the busy summer months and procuring many sales.
A key member of the business, Tony and Christine's daughter, Francesca Canueto says: "The Certikin wooden pool is an important part of our customer offering. It particularly appeals to the 35 to 45-year age bracket – young families looking to introduce their children to swimming and, at the same time, provide a focus for family entertainment and fun. The wooden pool allows them to do just that without blowing the budget. It provides a fabulous entry to swimming pool ownership. Our demo pool was well-timed as it captured the imagination of those families looking to holiday at home and invest in their gardens during lockdown and beyond.
"Our installation team find its preparation easy and construction straight-forward, taking just three to four days in total. Even those customers that opt for the DIY option say that the manual is simple to follow and trouble-free. We also offer a hybrid deal in which the customer or his tradesman installs and we offer support and advice.
"Aesthetically, the pool looks great and the wood blends naturally into the landscape. Other wooden pools are often much more labour intensive to install requiring deeper concrete bases and the inclusion of metal mesh and supports whereas the build quality of the Certikin pool requires minimal groundwork whilst still providing an immensely sound construction with a finish that is far superior to alternative brands. We treated the wood of the demo pool in early spring and it is still looking fresh eight months later. I'm a great believer that you get what you pay for! Given the beauty of the wooden pool, it almost seems a shame to sink one into the ground but, of course, you can choose to partially or fully install the pool in ground, such is the versatility of the Certikin wooden pool."
Pools Plus LLP
w. www.poolsplusllp.com | t. 0118 940 4221
---