Now for some serious swimming. This spectacular residential pool demonstrates the prodigious talent of Wearside-based pool contractor, Whitewaters, in creating spectacular, technically-advanced swimming pools and the lengths it goes to, to achieve the desired result. Certikin takes a bow in being the supplier of the project's filtration, environmental control and auto chemical dosing system.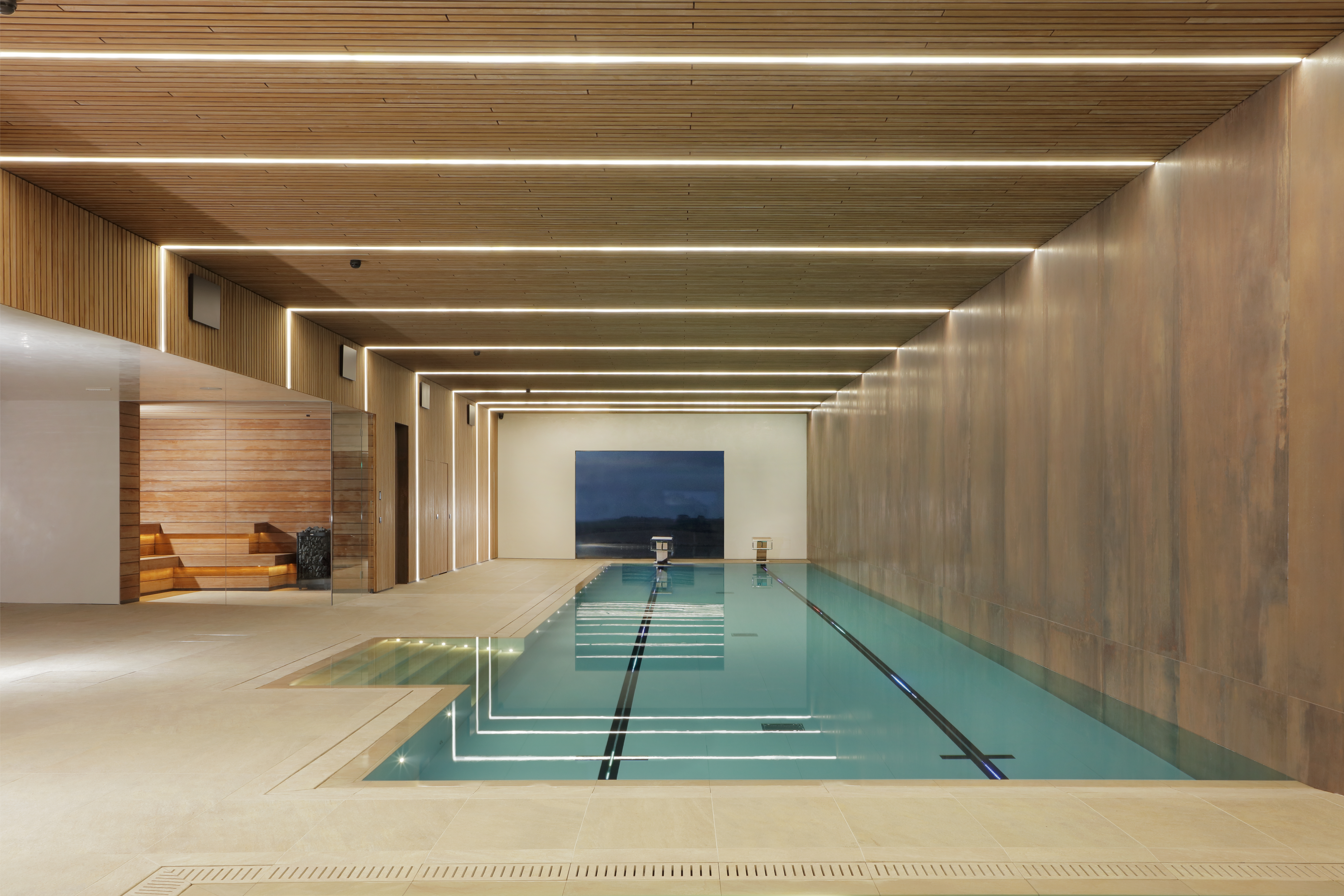 This is no ordinary pool. Complex, both in build and operation, this 25m x 5m residential training pool, is fitted with a sophisticated lap pacer system. Whitewaters' Managing Director, Mick Guthrie, explains: "The client is an avid swimmer and required a number of competition-style features. Our challenge was to incorporate these features without compromising the general aesthetics of this high specification property. I am satisfied we achieved it and we certainly have a very happy customer. The project displays excellence in both aesthetic design and technical complexity and we welcomed the part that Certikin's products and technical expertise played in it."
As Theodore Roosevelt once said: "Nothing worth having comes easy" and so this pool proved! What should have been a nine month build, turned into 18 months due to difficult site conditions and the delays wrought by Covid-19.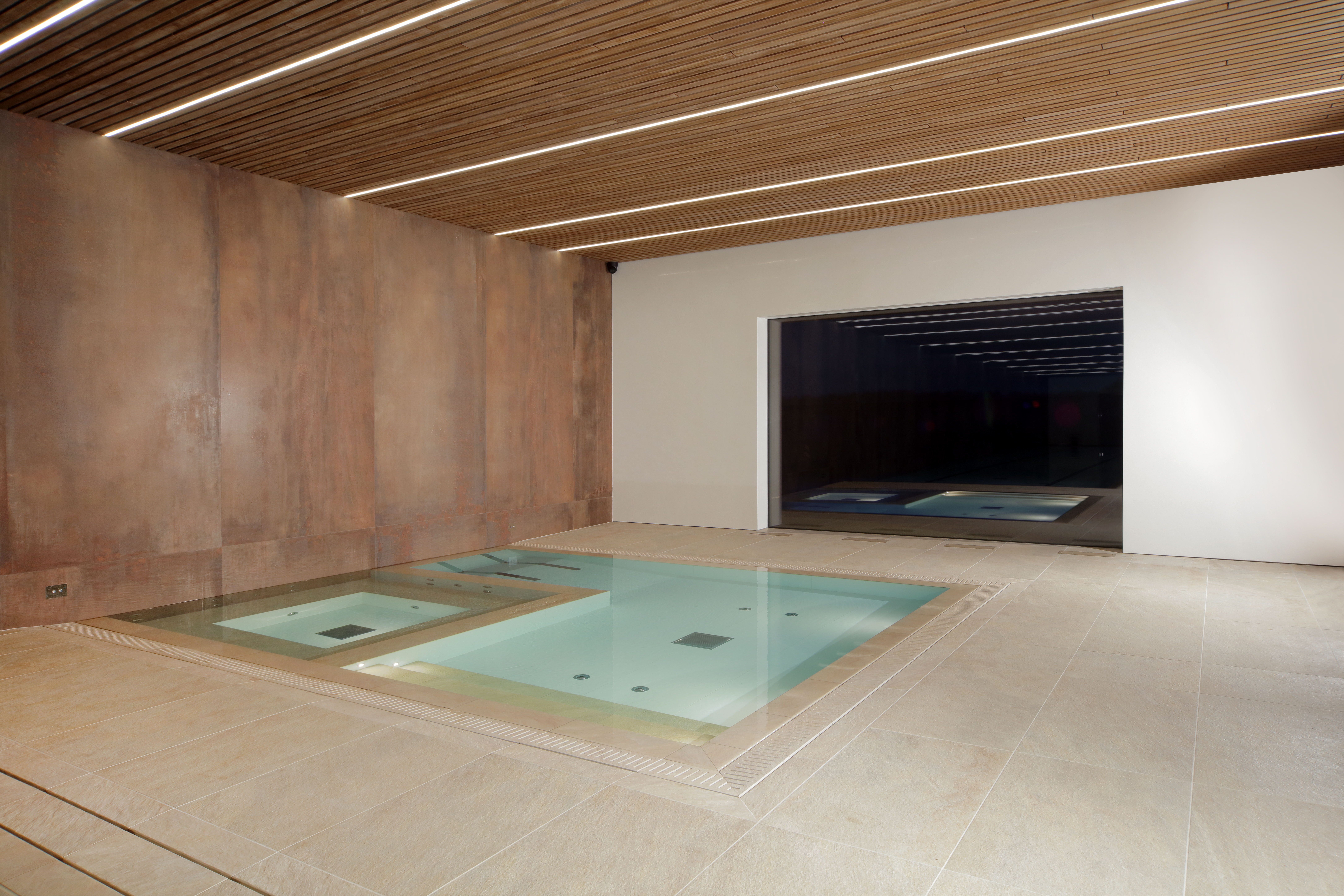 Every detail of the project was meticulously researched and executed. A single storey contemporary hilltop home, a large-scale extension was added to form the pool hall which, when you enter, you are bowled over by its striking 35m feature wall adorned with 3m slabs of Corten-effect porcelain. Porcelain is also used in the pool's contrasting black lane markers and turning crosses. Bespoke stainless-steel channels are recessed into the pool's lane markers to carry LED light strips which allow pace, stroke and tempo to be set at the poolside via a smartphone app. This permanent built-in solution was designed and installed by the Whitewaters team using technology sourced from the US. The starter blocks are another bespoke feature, again manufactured from stainless steel inset with porcelain to match the pool surround.
Less obvious, but nonetheless integral to the pool's performance, is its environmental control system, and for this, Whitewaters turned to Certikin to supply a Calorex Delta 12. Featuring touch screen technology in a unique multi-functional single unit, the Delta takes full control of the pool's indoor environment and pool water heating. Mick adds: "The system is designed to provide the environmental comfort and moisture related structural protection necessary for a pool of this size and all very economically."
At the opposite end of the hall, Whitewaters constructed a small leisure pool featuring an inset sunken spa  complete with bench seats, massage jets, a lounger with twin air strips and a shallow children's play area.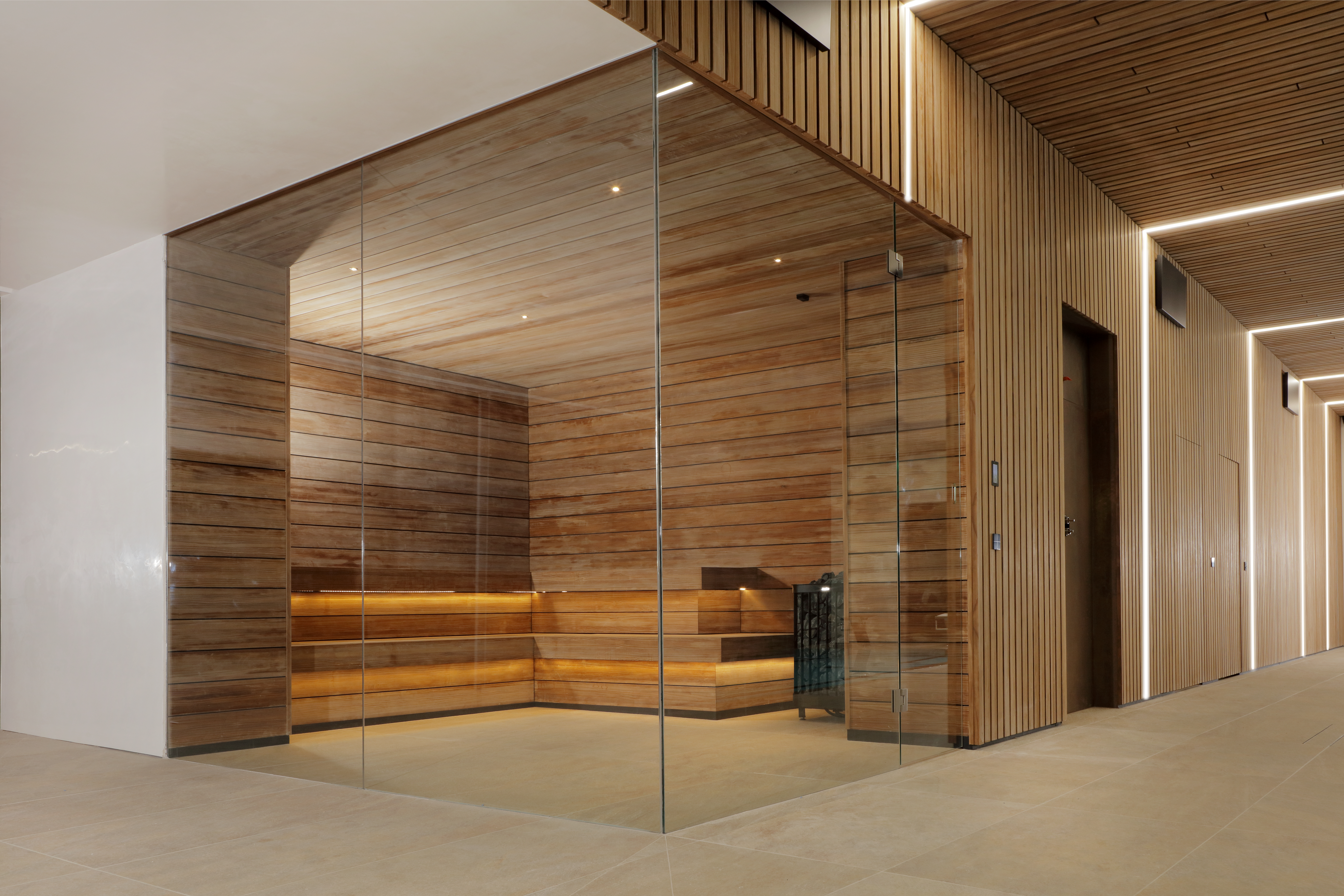 Elsewhere in the pool hall is a hot yoga room, with large floor-to-ceiling frameless glass panels, lined with Abodo Vulcan timber with benches to match, concealed LED strip lights, and a 24kw exposed stone feature stove.
Fundamental to the overall beauty of both pools is Certikin's automatic dosing system which provides a reliable source of pristine clear water combined with minimum maintenance. Mick adds: "We used two Certidos WCP dosing systems, one for each pool. We use these on the majority of our high-end projects as we know it will do everything we need at a reasonable cost but, and more importantly, in the event of there ever being a problem we know we can always rely on Certikin and its excellent service record to sort it out. It's called buying peace of mind."
Certikin's exclusive Vision bobbin wound domestic filters are bestsellers in their sector so it's no surprise that this plant room features three. The filter offers unrivalled features such as a large 10-inch wide clear lid making sand changes quicker and easier and a dual dump port arrangement means a small outer cap can be removed for drainage and a larger secondary cap assists with the removal of the media. The Top Mount Vision is the only one of its kind to feature a clear valve mounting ring, allowing full view of the filter in operation whilst the pump is running. And for peace of mind, both side and top mount models come with an impressive ten-year full tank warranty for residential installations.

t. 0191 551 2048 | w. whitewaters.co.uk
---