When the spotlight fell on the completion of the £25 million world-class Andersonstown Leisure Centre project in west Belfast last year, the focus was on its six-lane pool and its three huge water slides. Less glamorous, but nonetheless vital to its success, is the plant room – the workhorse which houses Certikin's filtration and water treatment systems installed by Northern Ireland pool contractor, Oak Creative Water Engineering Ltd.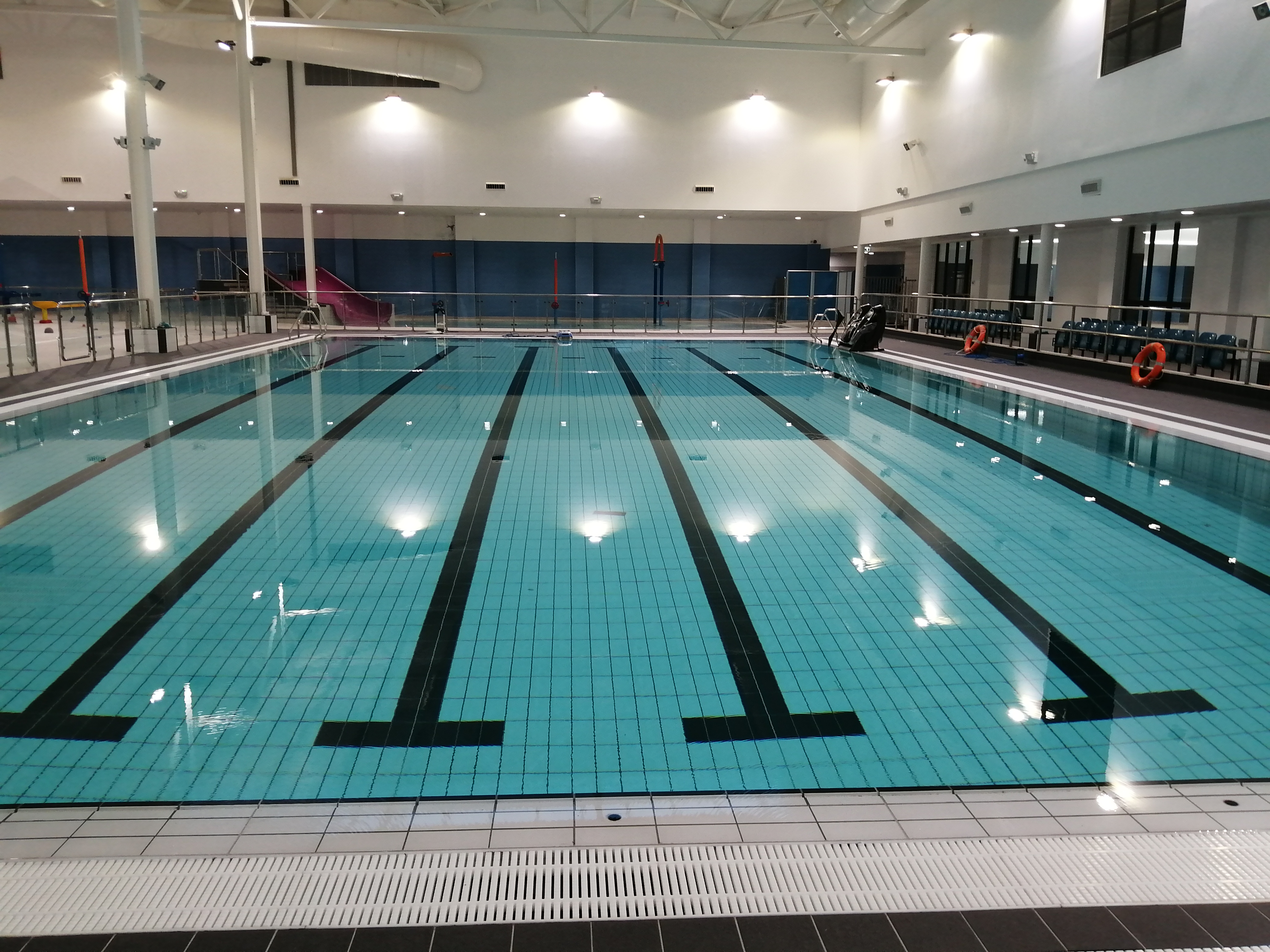 Ranking as the biggest project in Belfast City Council's £105 million multi-centred Leisure Transformation Programme, the Andersonstown Leisure Centre is an impressive facility by anyone's standards. Eighteen months in construction, the £25 million cutting edge project, was created for maximum family fun and, as such, includes a 25m six lane pool with 50 spectator seats; a teaching pool; a water confidence pool for small children and toddlers plus a splash pool.
The WOW factor is supplied via three high speed water slides. Visible on the exterior of the redeveloped site on the Andersonstown Road, the three jaw dropping features comprise The Abyss – a drop slide where riders enter a capsule and prepare to be plunged into a literal abyss, with the floor disappearing below their feet. The Torrent – a slalom slide where riders in singles or pairs twist and turn on inflatable rings and lastly, the hairraising Vortex – a body slide taking riders to the bottom via terrifying twists and turns at high speeds. If that's not enough, there's also an exhilarating indoor surf simulator for those who want to learn to surf before trying it for real in the sea. Heavily used, high energy facilities like this naturally demand a premium quality, dependable and super robust filtration system. The project's contractor Heron Bros appointed Newtownabbey pool contractor, Oak who, as long-standing customers of Certikin, selected nine heavy-duty TLX mild steel filters to do the vital job of maintaining crystal clear sanitised water: two TLX 2100, two TLX 1800, two TLX 1400 and three TLX 2600 were duly installed.
Oak's Linda Bell says: "We have always found Certikin totally reliable with a service back-up second to none. If we encounter any problems we know we can turn to Certikin to provide support and advice. That's priceless peace of mind, especially when it comes to a high-profile, prestigious installation like Andersonstown."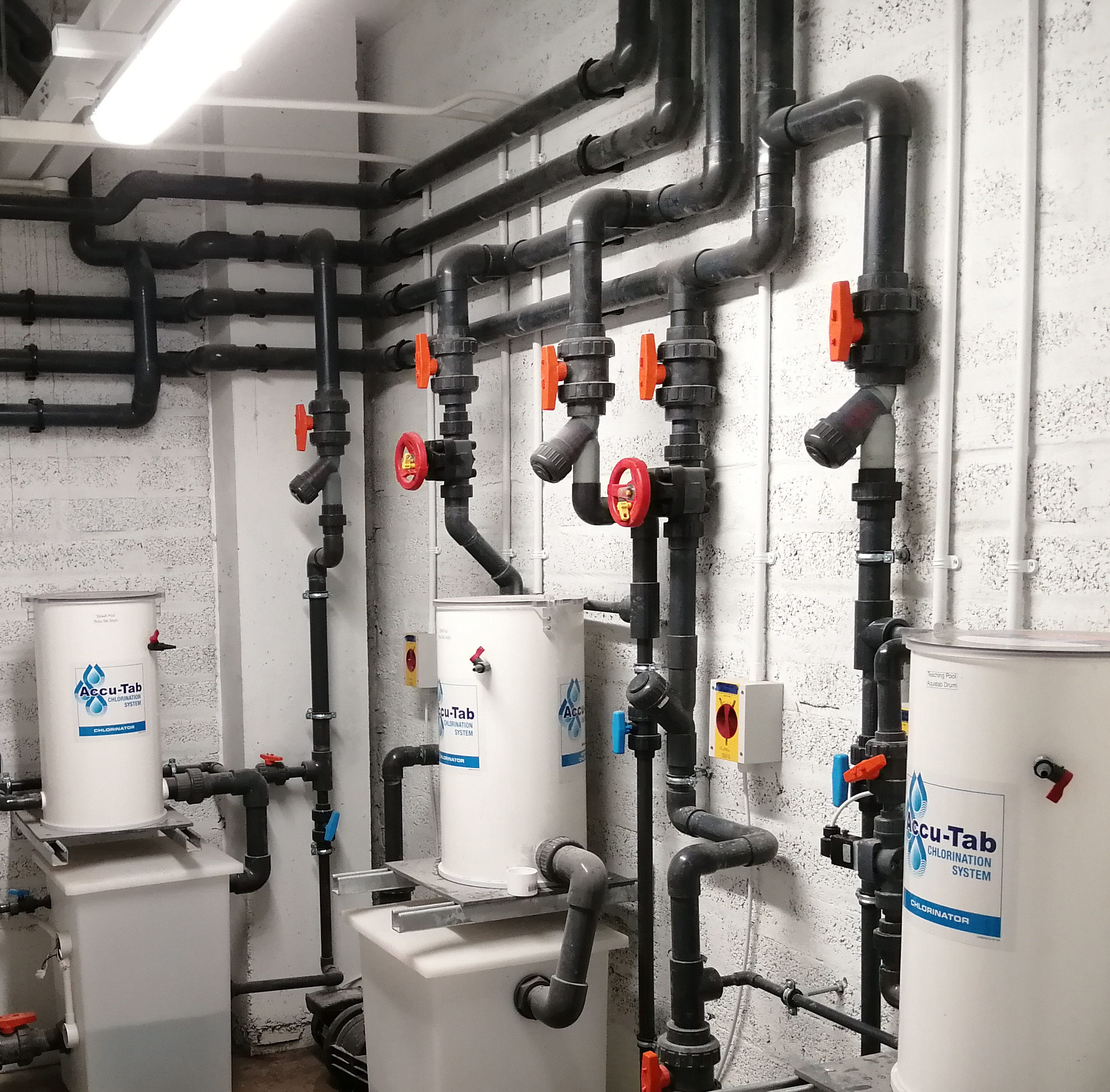 Oak also installed Certikin's Accu-Tab calcium hypochlorite system which, says Linda: "We consider to be a perfect water treatment system for a sizeable installation like this. It is very safe for staff, reduces maintenance and is very reliable. The beauty of Accu-Tab is that it can cope with any bathing workload – from a small hospital hydrotherapy pool to a 50-metre Olympic pool." To cope with the needs of the 25m pool and three learner pools, Oak installed an Accu-Tab 3075 Power Base chlorination unit. The system consists of a PVC base, 4ft by 2ft, with a 20-gallon polyethylene tank mounted on the base. The Accu-Tab dry tablet chlorinator, holding 25kg Accu-Tab tablets is mounted on the specially designed tank. The tank has built in level switches and is connected to a special Burkert solenoid valve, all of which is operated on 24 volts which is very safe. The system is wired to the chemical controller, which also controls a Lowara 240 volt, booster pump. All the electrical controls are wall mounted at eye level for ease of access and the whole system is corrosion resistant.
Linda adds: "Accu-Tab saves such a huge amount of staff time. The duty manager simply has to refill the chlorinator with the large 3-inch Accu-Tabs, which takes about 10 minutes a day – a very clean procedure. It eliminates all hazards, blockages are non-existent and it is very economical! With no corrosion on the system, no chlorine dust, no overflowing of chemicals, no bund, no mixing tanks and equipment, no injectors to block, no metering pumps to default, no hoses to block/burst or blow off, no danger of chemical splashes – using Accu-Tab really is a no brainer and the water quality is superb!"
GLL, the social enterprise that operates Better leisure facilities on behalf of Belfast City Council, say the centre is on a scale "never seen before in the city". Gareth Kirk, GLL's Regional Director for Belfast adds: "While these are challenging times, we are confident that the Covid safe measures we have in place will mean that everyone can have a safe and enjoyable visit."
t. 028 9085 4167 | w. oak-pools.co.uk
---