Taking full advantage of the breath-taking views that the Monmouthshire countryside affords, this beautiful pool, constructed by Gloucestershire-based Aquascape Swimming Pools Ltd, required little adornment. Demonstrating that simple designs are the best, this hillside pool more than fulfilled the brief to keep it "pared-back and timeless."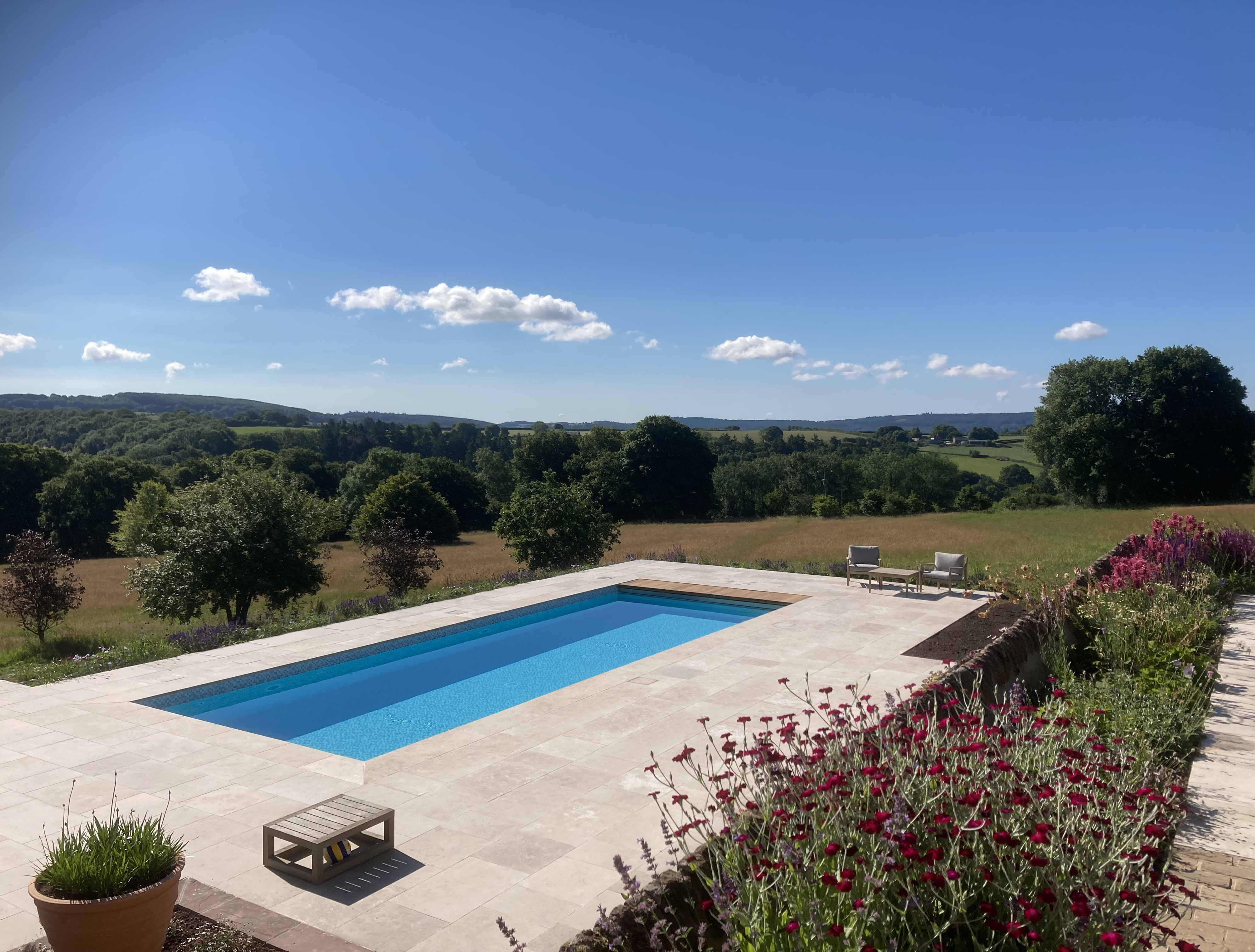 "The client came to us on the recommendation of an existing customer of ours," says Aquascape's MD, Lee Turley. "He'd been considering installing a pool for a while, and after the lock down of 2020 and 2021 decided now was the time. The brief was to build a classic, timeless concrete and tiled pool to capture the amazing views; somewhere for the family to entertain and where their three sport-fanatic sons could exercise and work-out.
"The 12m x 4.2m constant depth pool may give the illusion of simplicity, but its design and four-month construction proved far from straight-forward. We had to cut into the hillside and put the excavated earth under a retaining wall in order to construct a porcelain stone terrace."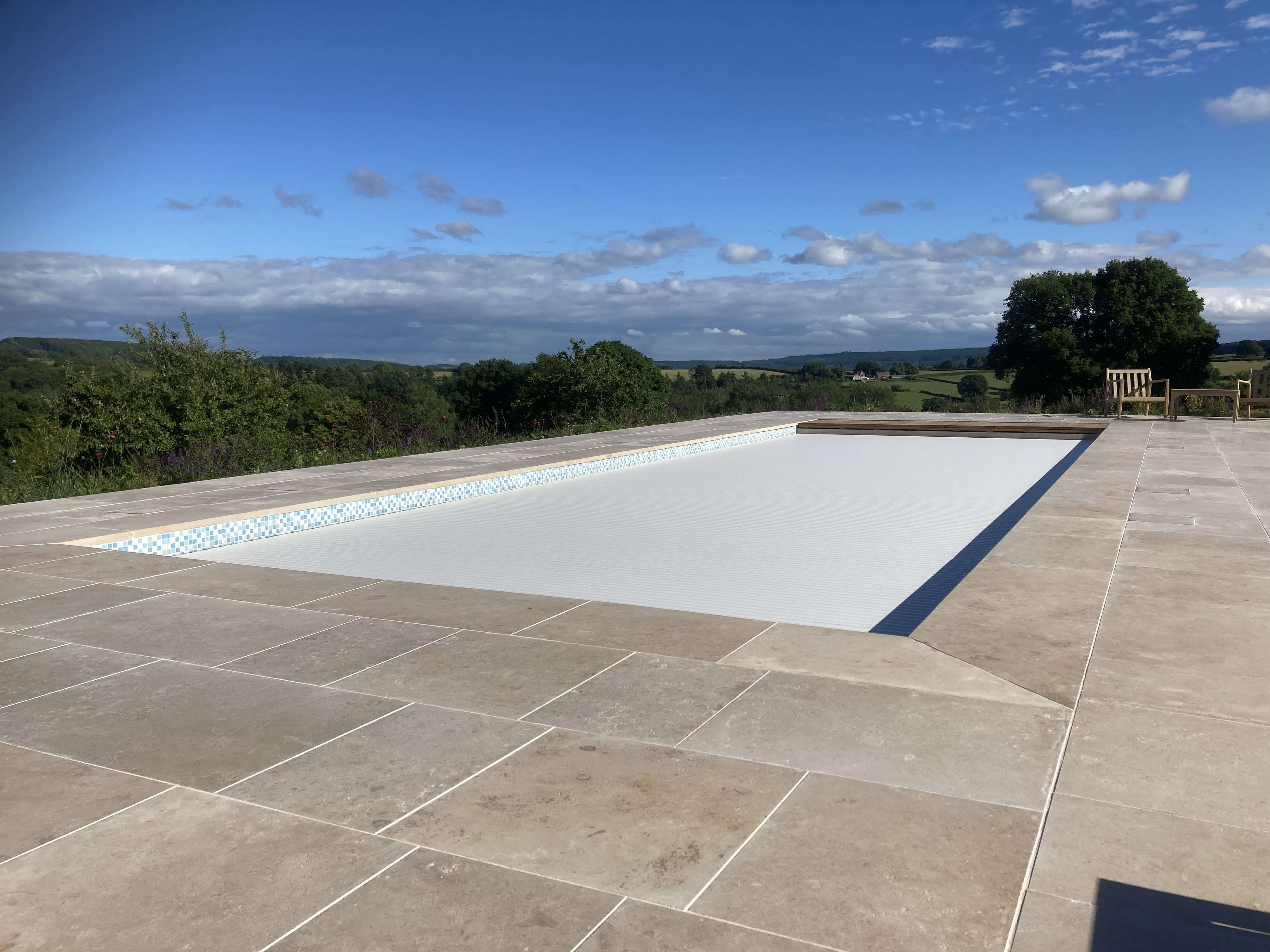 From its Aquaspeed filtration pump, six PU6 underwater lights and white ABS fittings to its Calorex extended summer season heat pump, Roldeck PVC white slatted automatic cover with Iroko pit cover, the pool bears the Certikin hallmark.
"Having worked with Certikin for over 30 years we knew we could rely on them to help us complete this fantastic project to the highest of standards," says Lee. "Always suppling the best quality products, coupled with fantastic customer service and technical support, are the reasons we choose to work with Certikin."

t. 01453 886952 | w. aquascapeltd.com
Certikin's Calorex I-PAC and V-PAC inverter heat pump range is designed in the UK specifically for the UK climate. They are eco-friendly, carry an impressive 5 year on site parts and labour warranty and are available exclusively in the UK from Certikin.
These stylish-looking, compact heat pumps (the small footprint making them compliant with permitted development rights) are available in side or top outlet versions. The side outlet also has the added benefit of Wi-Fi capability for remote control.
Inverter heat pump technology allows for efficient control of the pool temperature with the I-PAC/V-PAC only using the energy required. High efficiency with modulating step-less inverter compressor gives an average COP of 10.3 (I-PAC+), 9.7 (I-PAC) and 10.7 (V-PAC), which is twice as efficient as the traditional on/off models. Complying with the European F-Gas regulations, the heat pumps use the low Global Warming Potential (GWP) refrigerant R32. It requires less refrigerant volume per kW and is easier to recycle.
Roldeck – as stylish as it is functional
The ultimate in energy saving, evaporation control and durability, the Roldeck offers a wide variety of installation options, plus of course creates an attractive finish to any pool.
Each Roldeck is made to measure for new or existing pools with the coiling mechanism installed above or below ground or in the pool itself. In an above ground installation, the protective roller cover can be reinforced to create a bench. Touch pad type switch and remote control for easy calibration and operation, a safety lock available for new builds and the ability to interlock with the air handling system (indoor pools), are just some of its outstanding features. Rainwater will pass through the cover and not collect on the top and it, of course, minimises pool debris.
Roldeck's standard PVC slats come in white, blue, cream, grey, solar, and transparent (with a blue tint). The solar option, with a black base, collects heat from the sun and transfers it directly into the water, greatly reducing heating costs. The translucent slats allow under water lighting to shine through.  In addition to the PVC range, there is a choice of 6 Eclipse® Polycarbonate Slats to choose from – 3 with solar gain, plus the crystal-clear version and all with a 5-year pro-rata warranty. The Eclipse® range includes a special layer of UV protection, plus a new chamber design to help prevent algae formation.
Powered by a 24 volt In-Roller Motor system (negating the need for a separate motor pit) features Formula 1 shock absorber seal technology and built-in pressure sensor and a concealed stainless steel motor driven spindle.
---